At Ralph Lauren's show, insiders looked to the chandeliers hanging from the ceiling for clues to the collection's contents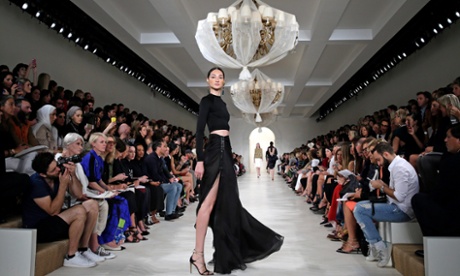 At Ralph Lauren's catwalk show, insiders look to the chandeliers hanging from the venue's ceiling for clues to the content of collections. For spring/summer 2015, shown on Friday morning at New York fashion week, they came in gold with looped crystals, covered in layers of ivory chiffon. Tasteful and traditional was the mood, the hush of lobbies in discreet uptown hotels.
The collection kept its end of the bargain – eventually. Floor-length tulle dresses in primary brights later in the show would swoop through the lobby on the way to a cocktail party, as would satin sheaths and sequinned gowns. White trouser suits and nipped-in jackets were a classic – if high maintenance – Lauren look for daytime rendezvous.
Source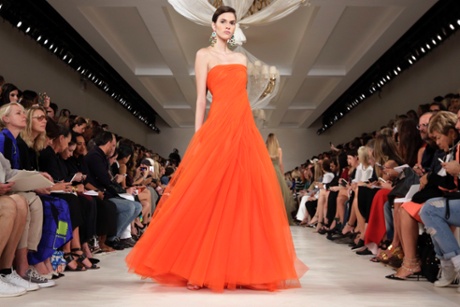 While these designs would have kept the Lauren faithful happy – and caused spontaneous applause from the front row – it was the earlier looks that were more interesting, and mixed day and evening to modern effect. The first outfit here showed Lauren was in the mood to try something a bit different: a pair of combat trousers with a vibrant violet asymmetric satin top. The kind of hybrid that women have adopted to respond to day to night lifestyles, the casual glamour felt effortless, not too 'done'.
Some pieces were even a bit hip – not usually a word used to describe one of the establishment figures of American fashion. A pair of combat trousers and bomber jacket in khaki satin would have easily slotted into Rihanna's afterdark wardrobe.
This more relaxed take continued through the first half of this show, before the trademark gowns and tailoring came out. Combat trousers were a key shape, but given a luxe edge through a draped, elegant cut. Highlights included fuscia trousers worn with a khaki silk shirt and high-heeled sandals, a camel-coloured satin boilersuit and a pumpkin orange shirt-dress cinched in at the waist. The jewellery - brightly-coloured gem stones worn in ornate necklaces and teardrop earrings - pulled the collection together and gave that trademark Lauren polish.
Source