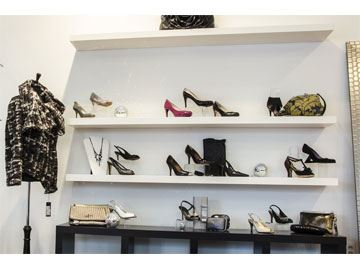 Waterloo Region Record
Alexandria's Shoes
based in St. Jacob's, Ontario sells the finest selection of footwear in the Kitchener-Waterloo region. In business for more than 19 years, Alexandria's Shoes has earned a reputation for carrying the finest selection of quality footwear and accessories for women who pride themselves on being fashion forward. Owned and operated by Mary Reger, Alexandria's Shoes offers something for everyone - footwear and accessories for the office and leisure time.
The dedicated and knowledgeable
staff
at Alexandria's Shoes ensures that each and every customer finds the perfect items, and that they fit like a glove. Set in the beautiful village of St. Jacob's, Alexandria's is the most popular spot in the region for trendsetting and unique women's shoes and accessories. From casual to evening footwear, Alexandria's vast inventory is always changing. You will find unique and specialty
European Brands
not found anywhere else.
Women who love shoes and who like to accessorize with them should head to Alexandria's Shoes today. Convenient hours and ample parking make it easy for customers to spend time at the store. A true fashion boutique experience awaits at Alexandria's Shoes. Did we mention that the store is open seven days a week?
Please visit them in-person, give them a telephone call at 519-664-3149, or check them out
Source